Shattered October 2006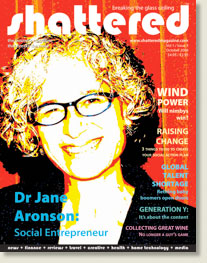 COVER FEATURES
Dr Jane Aronson: Social Entrepreneur It is difficult to imagine Dr Jane Aronson doing any more than she already does every day. As one of the world's few orphan medicine specialists, she barely sleeps as it is, and is consumed with thoughts of how to continually innovate her methods and means of caring for orphans overseas.
Jane Tomlinson Completes 4,200 Mile Ride Across America Jane Tomlinson completed a grueling 4,200 mile bike ride across the United States from June 29 to September 1 – the greatest endurance feat ever to be attempted by someone with terminal cancer. Her aim was to double $1 million in donations she had so far raised for cancer and children's charities.
AROUND THE WORLD
Portfolio Picks The Portfolio Picks Players: Which of our talented 12 women will win the title of Shattered's "Investor of the Year" in our charity competition?
Wind Power: will nimbys win? Nimby-ism (not in my back yard) is almost understandable when talking about a gas pipeline or an ugly McMansion. But when it comes to environmentally friendly, quiet and - some say – beautiful windmills, an astonishing number of people are saying "no".
Make Poverty History 17Using a trombone and a bit of tenacity, teenager Briony Thompson tracked down Bob Geldof andMidge Ure to get the rights to re-record their 1980s charity pop hit, "Feed the World".
BABY BOOMERS The Global Talent Shortage Retiring baby boomers open doors
MARKETING The Bold, the Fearless and the Restless Growing Global: 10 tips from leading entrepreneurs to help you make the world your business.
ADVERTISING Generation Y: It's not so much about language, it's about content. Dilys Tosteson Garcia predicts that Hispanic marketing has already begun a transformation, turningaway from an immigrant focus and aiming toward second and third generation Latinos.
BANKNG & FINANCE Ready, SET, Go! Thailand's stock exchange has ambitious growth plans, despite the recent coup. CEO PatareeyaBenjapolchai talks about her objectives as Thailand, and the region, continue to recover from the1997-98 Asian financial market crisis.